PULLING UP STUMPS is in post-production! Thanks to our successful Boosted campaign & seed funds, we raised enough of our $65,000 NZD budget to shoot the film from March 15-19, 2023 in a Queenstown Basin woolshed.
Post-production costs are expensive, so we are still looking for the kindness of founding donors/Executive Producers. EPs will receive an official IMDB credit.
During filming, we were fortunate enough to have an atmospheric Otago location, equipment lends from the Queenstown Camera Company, AlBol as our cinematographer, and an outstanding Kiwi cast of Ian Mune & Mark Mitchinson. Help us finish:
An Otago short film that will preserve a slice of rural life before it disappears forever.
A South Island story that celebrates older blokes and the sanctity of a man's shed.
A classic of Kiwi cinema that features Ian Mune in a role that befits his status as a legend!
---
This is a film for fans of A RIVER RUNS THROUGH IT, BELLBIRD, THE WORLD'S FASTEST INDIAN, and THE STRAIGHT STORY. Our goal is to submit PULLING UP STUMPS to prestigious international & Kiwi film festivals who support short narratives (e.g. Show Me Shorts and NZIFF). If it does it well on the "festival circuit," then there may be opportunities to release it publicly through widely available channels and to local cinemas.
---
FOUNDING DONORS/EXECUTIVE PRODUCERS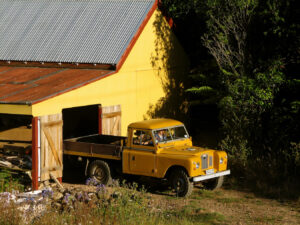 Join our filmmaking family! We welcome any givers who would like to be credited (or remain anonymous) as special donors with sums of $5,000 NZD or more.
Although we can't promise any monetary returns from a short film, we would like to offer you:
Executive Producer (EP) credit
Credit of thanks in the film's final credits for yourself or someone you would like to honour
The option to view an early cut of the film & provide feedback
Swanndri gift package

Private premiere invite to Dorothy Browns with cocktails and special presentations